Dennis Ziemienski, a native San Franciscan, graduated cum laude from the California College of Arts. An internationally known illustrator and designer for 30 years and a member of New York Society of Illustrators, his paintings have been in various one-man and group exhibitions and have won numerous awards. Dennis has taught at the California College of Arts and the Academy of Art in San Francisco. He has had studios in California and New York. Traveling to Europe frequently, Dennis has acquired an affinity for the architecture, lifestyle and light of the Mediterranean. His strong and richly colored images borrow much of their inspiration from early 20th century paintings and posters. Churchhill Downs has selected Dennis as the Official Artist of the 2006 Kentucky Derby. Currently, Dennis is working on gallery shows, commissioned paintings and murals.
To learn more about Dennis and his art, visit his website at
http://ziemienski.com/, You can also follow him on
instagram.
Prints Created at Eastside Editions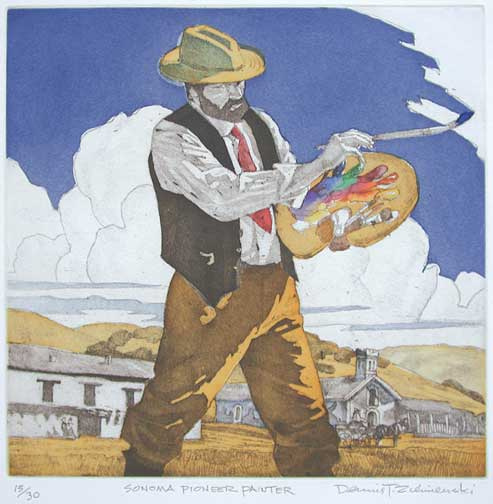 Sonoma Pioneer Painter
etching with aquatint and handcoloring,
Edition of 30
Image 9" x 9"
Handmade cotton paper 18 3/4" x 17 1/2"