---
Recent Works by Don Williams
September 6 - 29, 2007
Opening Reception Thursday, September 6, 5:30 - 7:30
Jenkins Johnson Gallery
464 Sutter Street, San Francisco
www.jenkinsjohnsongallery.com
read a review of this show in the
SF Chronicle online, by Kenneth Baker

---
The Achenbach Collection recently purchased a monoprint by Jenny Robinson called Gasometer, 2006
Jenny is currently in a show at the Davidson Gallery in Seattle 'Introductions 2007' August 3 - September 1 (www.davidsongalleries.com)
---
Frances McCormack
From the Ground Up: Painting, Process & the Garden
June 21- September 9, 2007
Palo Alto Art Center
The exhibition is a mid-career survey of the work of
Frances McCormack.The imagery in her lush paintings is
influenced by the history of gardens, as well as the many
processes in the making of gardens. McCormack is a resident faculty in painting at the San Francisco Art Institute.
" From the Ground Up: Painting, Process & the Garden"
June 21, 2007, 6 – 6:30 pm
A slide presentation by Frances McCormack
Free to the public
Advanced registration recommended
650-329-2366 or email pat.broadwin@cityofpaloalto.org
Summer Solstice Reception
June 21, 2007
6:30 – 8:30 PM
Palo Alto Art Center
1313 Newell Road Palo Alto, CA 94303
www.paacf.org
650-329-2366
---
Town and Country: Jessica Dunne and Louis LaBrie
June 2 - August 12, 2007
The Hearst Art Gallery has paired two of the most intriguing, unusual and gifted
contemporary California landscape painters for "Town and Country: Jessica Dunne and
Louis LaBrie," on view from June 2 to August 12. Dunne's dramatic, expansive and
atmospheric urbanscapes are presented alongside LaBrie's meticulously painted, often tiny
and jewel-like vistas in one of the most visually beguiling summer landscape exhibitions
ever presented by the Saint Mary's College art museum. A catalogue accompanies the
exhibition.
The Art Museum of Saint Mary's College of California
The Saint Mary's Hearst Art Gallery is the only accredited art museum in Contra Costa County. Its outstanding, varied exhibitions and art collection attract visitors from the College, the County, the entire Bay Area and beyond.
---
PRINTS OF WAILS, Art Hazelwood: Instead of just screaming at the TV, artist vents his anger in political linocuts. A review of Art Hazelwood's political art show at Mission Grafica by Matt Villano, Thursday, May 24, 2007, San Francisco Chronicle
---
solo exhibition:
Kara Maria - Paradise Lost
afternoon reception: Saturday, June 9, 3-5pm
exhibition dates: June 9 - July 29, 2007
gallery closed: July 7 - 15
Nathan Larramendy Gallery
107 South Signal Street
Ojai, CA 93023
805-646-2750
www.larramendygallery.com
---
Eastside Editions Studio Opening in San Francisco
Thursday, March 29, 2007, 5:30 – 8:30
715 Bryant Street #202 (near Fifth Street)
Join us at our new studio location in San Francisco. View new and dynamic prints including our two new large projects.

Art Hazelwood's new book series, Pulcinella in Hades
Italian artist Mario Teleri Biason's large scale print, Endless, done in residency at our studio.

Artists work on view
Kim Anno
Chester Arnold
David Avery
David Best
Mario Teleri Biason
Dick Cole
William Conger
Jessica Dunne
David Gilhooly
Art Hazelwood
Frances MacCormack
Kara Maria
Brigitte McReynolds
Paul Pratchenko
Don Williams
Thomas Wojak
Dennis Ziemienski
---
Eastside Editions
has moved to San Francisco! As of December 1, 2006
After six years in Sonoma we bid a nostalgic farewell and welcome you to our new studio. We'll be up and running soon.
Eastside Editions
715 Bryant Street
San Francisco, CA 94107
415 538-9400
email:studio@eastsideeditions.com
---
Kara Maria
Mendenhall Sobieski Gallery
August 5 - September 5, 2006
40 Mills Place
Pasadena, CA 91105
msgart.com
626-535-9757
opening reception: Saturday, August 5, 7-9pm

Conflict and Art at the Cantor Arts Center, Stanford University
(an historical survey including one of her monoprints)
June 7 to August 27, 2006
the Cantor Arts Center is located on the Stanford University campus
650-723-4177
http://museum.stanford.edu
Kara Maria
Zigzag at Arts Visalia
(solo exhibition of paintings)
May 16 to June 10, 2006
opening reception Friday May 19 from 6 - 8pm
artist talk Saturday May 20 at noon
214 E. Oak Street
Visalia, CA 93279
559-739-0905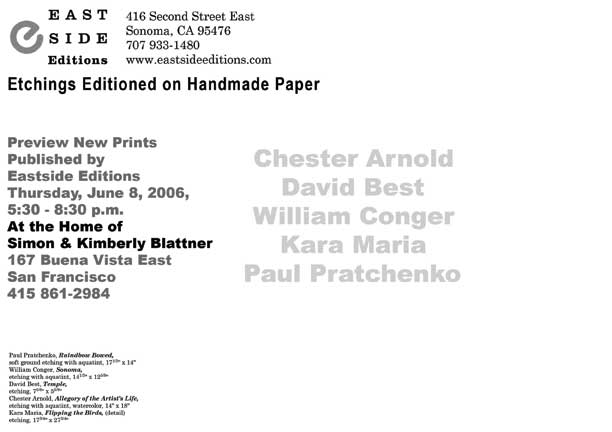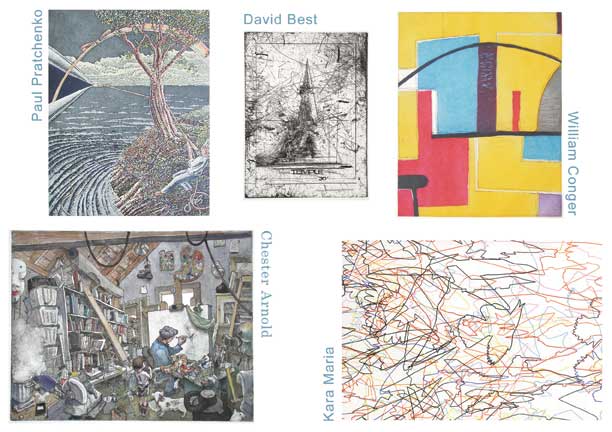 Kara Maria will have
two large, new paintings and her new etching from Eastside Editions
included in this show at
Catharine Clark Gallery.

reception on February 10 from 5 - 5:30 pm.

Moxie
Catharine Clark Gallery
49 Geary, 2nd floor, San Francisco, CA 94108
phone: 415-399-1439
www.cclarkgallery.com
February 10 - March 25, 2006
reception: Friday, February 10, 5-8pm
artist talk: Saturday, March 18, 3pm

Kara will also have a painting in an
exhibition at the Headlands Center for the Arts:
Close Calls: 2006
Headlands Center for the Arts
Project Spaces East & West
944 Fort Barry, Third floor
Sausalito, CA
www.headlands.org
January 15 - February 26, 2006
opening reception: Sunday, January 15, 2006, 1-3pm
---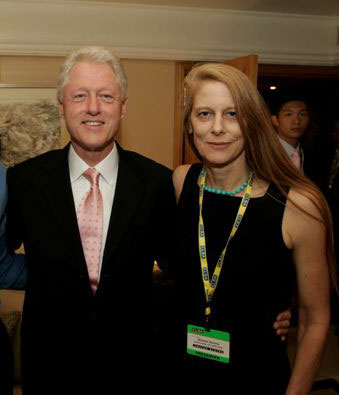 Eastside Edition artist Jessica Dunne with Bill in Hong Kong
---
Simon Blattner, Publisher of Eastside Editions is honored to have been selected as a visiting scholar at the American Academy of Rome. During the Autumn of 2005 he will spend two months there researching the history of papermaking in Western Civilization.
---
Read the letter from the publisher
---
Cyrano and the Four Humors -Literary Prints of
Art Hazelwood

Presenting a new book based on Cyrano de Bergerac's Journey to the Moon and Sun.
Published by Eastside Editions.

September 14 - October 31, 2005
Reception Saturday, September 17, 2:00 - 4:00

Oakland Museum of California Collectors Gallery
1000 Oak Street, Oakland, CA
510 834-2296
Wednesday - Friday 10:30 - 4:30
Saturday - Sunday 1:30 - 4:30

---