Prints Created at Eastside Editions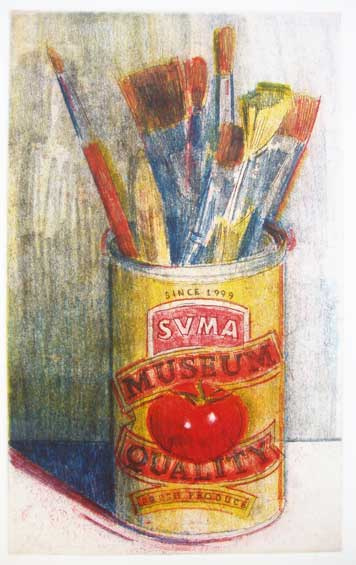 Museum Quality

etching
Image size: 12" x 7 1/2"
paper size: 20" x 12"
edition of 30
$325
Richard "Dick" Stonnell Cole, November 4, 1927 - September 26, 2016 AWS, NWS, CWA, was an award-winning illustrator, nationally-recognized watercolorist, and a remarkable gentleman. A proud fourth generation Californian, he grew up in Redlands, CA and graduated with honors from UCLA and Art Center College of Design. He served with the US Air Force as an air traffic controller during the Berlin Airlift 1948-49.

He worked as an Art Director, Graphic Designer, Illustrator and teacher, in New York (Young and Rubicam), Palo Alto, San Francisco and Sonoma. Dick and Primo Angeli cofounded the design firm Cole & Angeli with offices in San Francisco and Palo Alto. In those Mad Men years, Dick garnered numerous awards from New York, San Francisco, Western and Los Angeles Art Directors Clubs, as well as the Society of Illustrators, plus San Francisco and Los Angeles Society of Illustrators. With time, he added fine art watercolorist to his list of achievements.

Dick was a lover of life, beauty, music (jazz and classical), poetry, fly fishing, wit, tall tales and the finer things from California's vineyards and farms. Few could hold forth with more engaging tales, based on his rich life experiences. All who were his friends savored his endless supply of stories and jokes. He traveled widely, painting a brilliant record of what he saw. Cole shared his passion for art as a teacher at the Academy of Art University, San Jose State, Foothill College, the Sonoma Community Center, and in numerous workshops. As a nationally recognized watercolorist, his extraordinary work is in private and public collections from coast to coast.

He was a cofounding artist of Sonoma Plein Air, and past board member of the Sonoma Valley Art Museum. A partial list of his many awards include: 2016 'Sonoma Treasure Artist'; honored as 'Local Hero' on Day of the Dead Altar at Sonoma Community Center; Signature Member of American Watercolor Society; Sonoma Plein Air 2009 Artists' Choice Award; featured artist in 'International Artist Magazine' 2006; CWA National Charlotte Huntley Award 2005; Best of Show, California Watercolor Association National exhibition 2000, and many more. Dick served as past president of Francisco Society of Illustrators, National Watercolor Society, and the California Watercolor Association.

Predeceased by his much-loved wives Margot (nee Smith) and Diane (nee Noyes), Dick Cole is survived by his brother Jim Cole of Visalia, CA, plus his children and their spouses: his loving daughter Elizabeth Cole Brooks, husband Jason, and granddaughter Grace of Kirkland, WA; step-sons Eric Noyes of Bozeman MT and Greg Noyes of Los Angeles, and step-daughter Sara Noyes Vitale of Los Angeles, plus seven grandchildren. To read more about Dick, kindly visit
http://theprecis.com/Richard-Stonnell-Cole/
Published in the Sonoma Index-Tribune from Dec. 2 to Dec. 3, 2016