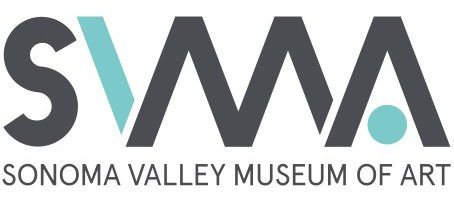 Book Reading/Signing: Libros De Artista, with author Simon Blattner
10.30.19 | 6:00PM
Simon Blattner was the curator of SVMA's 2018 exhibition Libros de Artista: Artist's Books from Mexico and the Mexican Diaspora. The books included in the critically acclaimed show are also featured in Blattner's book by the same name. An expert in artist books, Blattner has hands-on knowledge of the intricate printing process involved in creating the unique works. He accessed world-class collections and journeyed to Mexico to seek out emerging artists. Blattner will read and sign copies of the book for sale in the Museum Store.
Free for Members | $10 General.
https://svma.org/event/book-reading-signing-libros-de-artista/
Sonoma Valley Museum of Art, 551 Broadway, Sonoma, CA 95476
Simon Blattner will be at the San Francisco Center for the book on Friday, September 13th at 6 pm for a free book reading. Join us and register at Eventbrite.

A Tale of Transformation won a Merit Award at the Sebastopol Center for the Arts book exhibition, "Bibliophoria" juried by Donna Seager, June - July, 2009
A Tale of Transformation will be featured in the Steam Roller print exhbition at the San Francisco Center for the Book, August 16 - September 19, 2009
OPEN STUDIOS with David Avery at Eastside Editions , October 25th and 26th, 10:00 a.m. to 6:00 p.m.

A Book Release Party on Wednesday, July 30th, 5:30 to 7:30 pm, for Eastside Editions new collaborative book project, A Tale of Transformation,
Warnock Fine Arts
49 Geary St. Suite 211,
San Francisco, CA 94108
(415) 677-4001

Jenny Robinson will be shown at the Warnock Fine Arts in San Francisco, CA, from June 19 - August 15, 2008

Jennie Smith, Works on Paper at the Rena Bransten Gallery, May 22 - July 5, 2008

Art Hazelwood - The Whitney Museum of American Art in New York acquired three prints of Art Hazelwood's in May of 2008.

Jessica Dunne - The Library of Congress in Washington D.C. acquired two prints of Jessica Dunne's in May of 2008.

Jenny Robinson - Had a print, Billboard, selected by artist Jane Hammond for the New Prints show Spring 2008 at the International Print Center New York. Her image was used on the card for the show as well.

Paul Pratchenko exhibition, New Paintings, at Braunstein Quay Gallery. April 17 - May 17, 2008. Reception: Saturday, April 26, 2008, 3-5pm

SPRING OPEN STUDIOS: APRIL18-20. Please join us Eastside Editions for this April 18-20 at six great studio locations, all within two blocks of each other, in the bright and sunny South of Market (SOMA) neighborhood. This year, over 60 artists will be displaying their work in an incredible variety of media, including ceramics, collage, glass, drawing, furniture, mixed media, painting, photography, printmaking, sculpture, textiles, and more. Enjoy an evening art stroll on Friday, April 18 from 6 to 9pm, between each venue. On Saturday and Sunday, April 19-20, studios will be open from 11am to 5pm.

Jenny Robinson at Davidson Galleries, 313 Occidental Ave S, Seattle, Washington 98104, April 4 - 26, 2008. Opening reception with the artist: "First Thursday", April 3, 6-8 P.M. Robinson King's Cross Relic. 2007. Etching, aquatint. 1/3 e.v. 27 x 37 inches. Jenny Robinson's earliest impressions of the effects of light and shadow were formed in Malaysia where she was born and spent her early years. After studying in the U.K. and traveling extensively she moved to San Francisco in 2000. Her current body of work, large scale intaglio prints, examines the effects of light and shadow on urban, industrial architecture. In particular it focuses on scenes taken from urban environments in cities such as London, New York, and San Francisco, where she seeks out the overlooked, the mundane and the everyday urban structures such as warehouses, gasometers and overpasses. The artist's use of large etching plates and monotypes effectively captures the grittiness and mystery these places often evoke.

Chester Arnold - Exhibition, The Road to Paradise, March 15 - April 19, 2008. Reception Saturday, 15 March, 2-4pm at the Catharine Clark Gallery, 150 Minna Street, Ground Floor, San Francisco CA 94105

On MAY 3rd VAGADU will be celebrating local artist Kara Maria in San Francisco. For weekly updates on the process of creating Vagadu's Kara Maria. collection, check out their blog HERE. Kara Maria's work explores the politics of war and its influence on popular culture. In her art, Kara combines images of pornography and combat to examine the interaction of sexual energy and the military. Her artistic process is often to employ a chaotic all-over composition, with recurring figures, or similar objects repeated to create a landscape where abstraction meets porn stars and women in burkhas, and where birds in flight mingle with armed aircraft.

Kara Maria - Exhibition, Dystopia, at the Catharine Clark Gallery. January 19 to March 1, 2008. Opening reception: Saturday, January 19, 4-6pm. 150 Minna Street, Ground Floor
San Francisco, CA 94105

Pulcinella in Hades, Art Hazelwood's most recent book with Eastside Editions will be shown at the International Print Center of New York in New Prints/Autumn 2007. From November 1, through December 19 the show will be at the IPCNY in New York and then travel to Columbia College in Chicago where it will be shown from January 16 – February 22, 2008.

Printer and artist David Avery has work in a very important exhibition in New York. Multiple Interpretations: Contemporary Prints in Portfolio at the New York Public Library, Oct. 26 to Jan. 27. This show features work from the Library's print collection by twenty-three artists who have created multiple images to form portfolios in a wide range of styles and subject matters. My portfolio, God's Food or Der singende Knochen is being shown in its entirety. David is also a part of Selections, a juried show of twenty Open Studios artists showing at 111 Minna Gallery (@2nd St.) The opening reception is from 7:00 to 8:30 Thursday, Dec. 6. OR, you could attend the VIP reception from 5:00 to 7:00, if you really want to pay 75$ a pop. Three of his newest etchings will be on display.
Recent Works by Don Williams at the Jenkins Johnson Gallery September 6 - 29, 2007. Opening Reception Thursday, September 6, 5:30 - 7:30. 464 Sutter Street, San Francisco. Read a review of this show in the SF Chronicle online, by Kenneth Baker

The Achenbach Collection recently purchased a monoprint by Jenny Robinson called Gasometer, 2006. Jenny is currently in a show at the Davidson Gallery in Seattle 'Introductions 2007' August 3 - September 1.

Frances McCormack - From the Ground Up: Painting, Process & the Garden at the Palo Alto Art Center, June 21- September 9, 2007. The exhibition is a mid-career survey of the work of Frances McCormack. The imagery in her lush paintings is influenced by the history of gardens, as well as the many processes in the making of gardens. McCormack is a resident faculty in painting at the San Francisco Art Institute. " From the Ground Up: Painting, Process & the Garden" June 21, 2007, 6 – 6:30 pm, A slide presentation by Frances McCormack.
Summer Solstice Reception, June 21, 2007, 6:30 – 8:30 PM, Palo Alto Art Center, 1313 Newell Road Palo Alto, CA 94303

Town and Country: Jessica Dunne and Louis LaBrie, June 2 - August 12, 2007. The Hearst Art Gallery has paired two of the most intriguing, unusual and gifted contemporary California landscape painters for "Town and Country: Jessica Dunne and Louis LaBrie," on view from June 2 to August 12. Dunne's dramatic, expansive and atmospheric urbanscapes are presented alongside LaBrie's meticulously painted, often tiny and jewel-like vistas in one of the most visually beguiling summer landscape exhibitions ever presented by the Saint Mary's College art museum. A catalogue accompanies the exhibition. The Art Museum of Saint Mary's College of California, The Saint Mary's Hearst Art Gallery is the only accredited art museum in Contra Costa County. Its outstanding, varied exhibitions and art collection attract visitors from the College, the County, the entire Bay Area and beyond.

PRINTS OF WAILS, Art Hazelwood: Instead of just screaming at the TV, artist vents his anger in political linocuts. A review of Art Hazelwood's political art show at Mission Grafica by Matt Villano, Thursday, May 24, 2007, San Francisco Chronicle

Kara Maria - Paradise Lost, solo exhibition, afternoon reception: Saturday, June 9, 3-5pm. Exhibition dates: June 9 - July 29, 2007. Gallery closed: July 7 - 15. Nathan Larramendy Gallery, 107 South Signal Street, Ojai, CA 93023

Eastside Editions Studio Opening in San Francisco: Thursday, March 29, 2007, 5:30 – 8:30. 715 Bryant Street #202 (near Fifth Street) . Join us at our new studio location in San Francisco. View new and dynamic prints including our two new large projects: Art Hazelwood's new book series, Pulcinella in Hades, and Italian artist Mario Teleri Biason's large scale print, Endless, done in residency at our studio. Artists work on view: Kim Anno , Chester Arnold , David Avery , David Best , Mario Teleri Biason , Dick Cole , William Conger , Jessica Dunne , David Gilhooly , Art Hazelwood , Frances MacCormack , Kara Maria , Brigitte McReynolds , Paul Pratchenko , Don Williams ,Thomas Wojak , Dennis Ziemienski

Eastside Editions has moved to San Francisco! As of December 1, 2006. After six years in Sonoma we bid a nostalgic farewell and welcome you to our new studio. We'll be up and running soon. Eastside Editions, 715 Bryant Street, San Francisco, CA 94107, 415 538-9400, email:studio@eastsideeditions.com

Kara Maria at the Mendenhall Sobieski Gallery, August 5 - September 5, 2006. 40 Mills Place, Pasadena, CA 91105. Opening reception: Saturday, August 5, 7-9pm

Conflict and Art at the Cantor Arts Center, Stanford University (an historical survey including one of Kara Maria's monoprints). June 7 to August 27, 2006. The Cantor Arts Center is located on the Stanford University campus.

Kara Maria, Zigzag at Arts Visalia (solo exhibition of paintings). May 16 to June 10, 2006. Opening reception Friday May 19 from 6 - 8pm, and artist talk Saturday May 20 at noon. 214 E. Oak Street, Visalia, CA 93279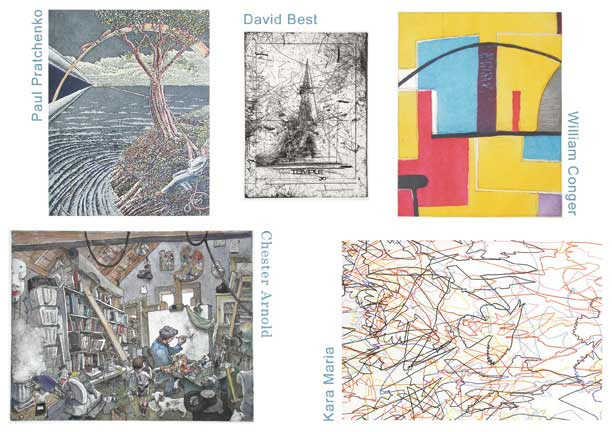 Kara Maria will have two large, new paintings and her new etching from Eastside Editions included in this show at the Catharine Clark Gallery. Reception on February 10 from 5 - 5:30 pm. Moxie, Catharine Clark Gallery, 49 Geary, 2nd floor, San Francisco, CA 94108. February 10 - March 25, 2006. Reception: Friday, February 10, 5-8pm, and artist talk: Saturday, March 18, 3pm

Kara Maria will have a painting in an exhibition at the Headlands Center for the Arts: Close Calls: 2006, Headlands Center for the Arts, Project Spaces East & West, 944 Fort Barry, Third floor, Sausalito, CA. January 15 - February 26, 2006. Opening reception: Sunday, January 15, 2006, 1-3pm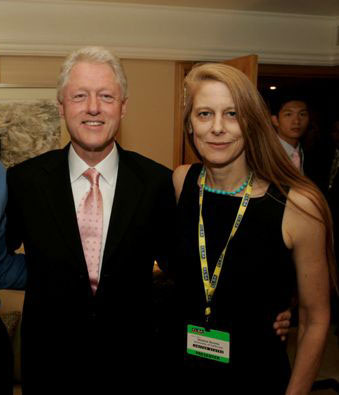 Eastside Edition artist Jessica Dunne with President Bill Clinton in Hong Kong

Simon Blattner, Publisher of Eastside Editions is honored to have been selected as a visiting scholar at the American Academy of Rome. During the Autumn of 2005 he will spend two months there researching the history of papermaking in Western Civilization. You can follow his blog of his adventures HERE.


Cyrano and the Four Humors - Literary Prints of Art Hazelwood. Presenting a new book based on Cyrano de Bergerac's Journey to the Moon and Sun. Published by Eastside Editions. September 14 - October 31, 2005, Reception Saturday, September 17, 2:00 - 4:00. Oakland Museum of California Collectors Gallery, 1000 Oak Street, Oakland, CA