Jenny's earliest impressions of the effects of light and shadow where formed in Sarawak, on the island of Borneo (now Malaysia), where she was born and spent her early years.
Since studying for her BA Fine Art Printmaking at WSCAD in Surrey UK, Jenny has traveling extensively throughout the world with her sketchbook. During this time she has concentrated on refining and developing her technique, which examines the effects of light and shadow on buildings and architectural detail. Jenny has concentrated on scenes taken from urban environments in major cities such as London, New York and San Francisco. Jenny uses as her main subject matter monumental and landmark structures, with a more recent focus on the overlooked, the mundane and the everyday urban scenes such as bridges, gasometers and overpasses. These landmarks are so often neglected and allowed to deteriorate, to the point that they are easy to ignore, but yet are a part of our everyday life. To convey an atmosphere of a specific time and place, Jenny uses techniques that evoke the contrast between light and deep shadow, while the size and compositions of her prints mirror the solid nature of their subject matter. The viewer finds that their attention is drawn to these structures that are often take for granted, even while they are being destroyed to make way for more condos or office space, lost forever in the push towards modernity and profit. Jenny's work primarily concentrates on the Monotype and Monoprint mediums. The spontaneity of mark-making enables her to work unhindered by more complex printmaking methods, and to concentrate on textures and the overlaying of inks to create deep saturated colors and marks.

Eastside Editions printer David Avery sat down for an interview with Jenny Robinson about her inspirations and the process of working at Eastside Editions. Click Here to read the interview.
To learn more about Jenny and her art, visit her website
https://www.jennyrobinson.com
Prints Created at Eastside Editions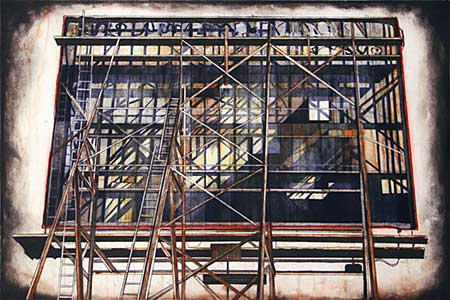 Bryant Street Billboard
2008
Four plate etching with spit bite and soft ground
Image 23-1/2 x 35 inches
Edition of 20
$1200
David Avery printing Billboard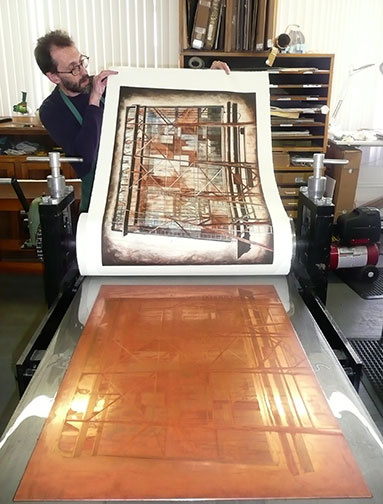 David Avery printing Billboard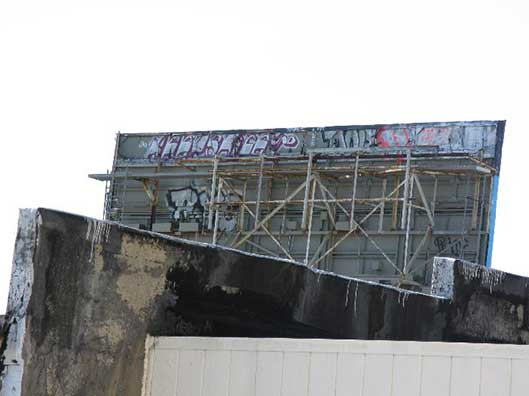 Photo of the subject of Jenny Robinson's print taken from the back deck at Eastside Editions, San Francisco.
Photo by Katherine Blood.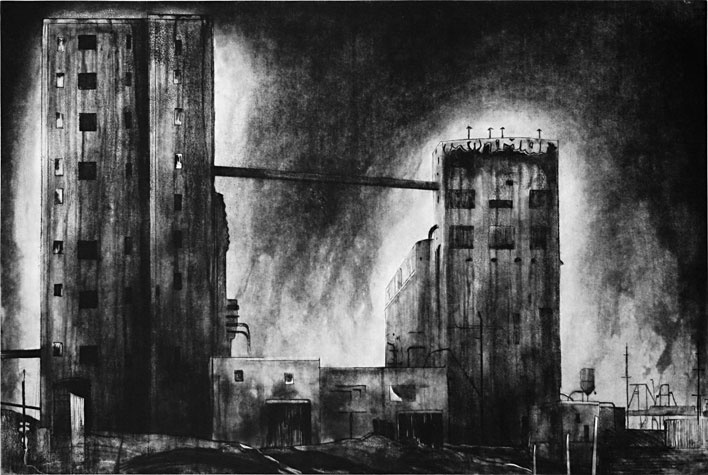 Third Street Factory
2008
Etching with spitbite, soft ground and drypoint.
Image size 23-1/2" x 35"
Edition of 20
$900
Printer David Avery pulling a print of Jenny Robinson's Third Street Factory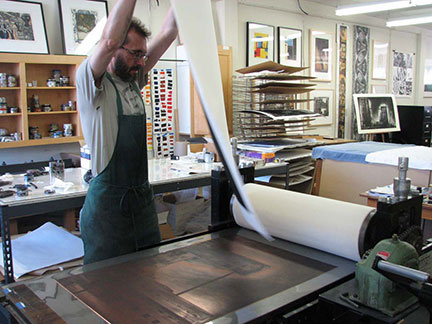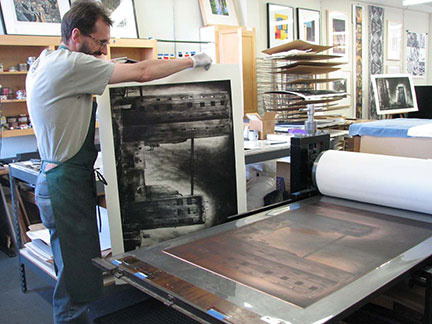 Printer David Avery pulling a print of Jenny Robinson's Third Street Factory